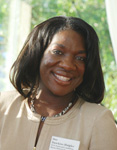 Dee Dawkins-Haigler | House District 93
Checks payable to: Committee to Elect Dee Haigler
Campaign address: 6050 Kingston Wood Way | Lithonia, GA 30038
Campaign phone: 404-788-9875
E-mail: dee@deeforgeorgia.com
Web site: www.deeforgeorgia.com
Dedicated, Effective, and Efficient are words often used to describe Dee Haigler. She dedicates her life to public service through her roles as a minister, college educator, community activist, and political strategist and organizer. Dee seeks the opportunity to serve the 93rd District as its State Representative.
Dee is an ordained minister in the African Methodist Episcopal Church where she has served as a pastor, teacher, evangelist, and mentor. She has a unique ministry that is able to bridge all age groups which has afforded her the opportunity to be the recipient of many awards regarding service to youth and women organizations.
Dee is the President and owner of DDH & Associates, a political consulting/ policy analysis/campaign management firm. She began her career in politics in West Columbia, South Carolina, where she began working on a variety of campaigns at the age of 12. This passion led her to run numerous successful campaigns. One of her proudest achievements was serving as the Campaign Manager for past West Columbia, South Carolina Mayor Pro-Tem Rosemounda Peggy Butler. Dee worked tirelessly for this disabled nurse and Gulf War veteran, who also happens to be her mother. Dee's political career includes serving as State Field Political Director in SC for DNC chairman Howard Dean in his bid for the US Presidency. She was also an integral part of the Dean team in the Michigan and Wisconsin Democratic primaries.
Dee is an advocate for youth. After her appointment by the governor, she served on the Juvenile Parole Board for the state of South Carolina, where she was the youngest and first African American female to hold this position. She was elected to numerous positions on the board—Secretary, Vice Chair, and then Chair.
Dee is a graduate of South Carolina State University in Orangeburg, S.C., where she earned a degree in Political Science. She also earned a Masters in Public Administration/ Personnel Management from Kentucky State University. She is a graduate of Turner Theological Seminary at the Interdenominational Theological Seminary where she earned a Master of Divinity degree in theology and ethics. She is a Ph.D. candidate in political science at Clark Atlanta University.
Dee is a member of Delta Sigma Theta Sorority Inc., The National Council of Negro Women, Inc., The NAACP, SCLC, and The National Association of Black Political Scientists just to name a few.
Dee currently resides in Lithonia. However, she has seen the country through her travels as a daughter of a US Air Force Master Sergeant. Dee is married to her college sweetheart, US Army Captain David H. Haigler, Jr. They are the proud parents of four children.