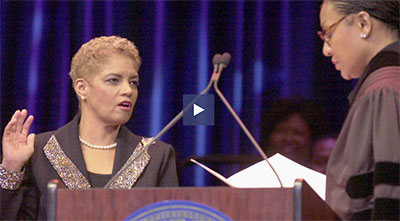 By Melita Easters
WIN List Executive Director and Founding Chair
When others encourage you to run for office, they do so for good reasons: they have been impressed by your leadership ability in a professional or non-profit situation, they like your innovative ideas, or you have inspired confidence by the way you work with others or handle difficult decisions.
The rewards of public service are many and the sense of accomplishment for making your community or state a better place is highly fulfilling. Public servants DESERVE the praise and admiration they receive.
What follows is not intended to persuade anyone AGAINST running for office, but rather to give you a set of considerations to review and reflect upon before you pay a qualifying fee and sign on the dotted line to put your name on the ballot.
The first consideration when thinking about running for office is to make sure you find the right fit for your talents, interests and personal situation. For most, it is best to think of public service as a trajectory. Most, and our current POTUS is an rare exception, craft a path of public service for themselves by serving in gradually higher positions as they gain experience, connections and the confidence of voters and power brokers.
Perhaps you were an education major and ended up in a corporate setting or you decided to stay at home with school age children rather than a full time classroom job. A spot on the local school board would put your talents to great use and make the school system a better place for your own children. If you are fascinated by architecture and the growth patterns for metro areas or you have a particular "bee in your bonnet" about unfilled potholes, you might enjoy a spot on the city council or county commission. When you are fascinated by public policies for healthcare, criminal justice reform or  environmental protection, then the state house or senate may be your best place to serve.
While in the "thinking about it phase," try to familiarize yourself with the workings of the body you are considering running for by attending meetings, public hearings and committee work sessions to be sure you have the appetite for the form of public service you seek. Not all meetings are as interesting as the one or two minutes your see on a nightly newscast or hear on the radio. Sometimes hours of tedious deliberations precede the dramatic vote or speech which ends up on the news or quoted in an article. Talk to those who hold office at the level you are thinking about running for to get an idea of the time commitment required for meetings you must attend and responding to constituent inquiries and requests.
When you are considering a run for office, make sure you are ready for the loss of privacy serving as a public official entails. Days of anonymity are over once mailboxes in your neighborhood and all the neighborhoods around you have been stuffed with two to four or more pieces of mail with your face in a prominent position. And the loss of privacy is not just for you, it is also for those in your family who are featured in campaign literature.
More than one first time candidate has been surprised when out knocking on doors to find the citizens answer in a cheery fashion as they begin to introduce themselves, "Welcome. Of course I know who YOU are!"
Elected officials are approached by constituents in the movie line, as they shop for groceries, in restaurants, at the dog park, at school events and even when on vacation at a spot where others for the district travel – think Highlands or St Simons for example. If you do not have the capacity to greet your constituents with a smile on your face as though you are thrilled to see them and happy to hear what they have to say, elected public service may not be your highest calling.
Once you have a good idea of what the job entails and believe the office you might seek is a good fit for your skill set, interests and time available, the first conversation should be with your spouse or partner and other close family members who would be affected by your decision. Public service can be difficult for relationships, particularly when the relationship was rocky to begin with. And, if your family has a health crisis requiring caregiver services for parents or children, then public service may need to be pushed to the back burner. Is your partner willing to pick up the slack on the home front when public duties require you to be elsewhere? Many potential candidates decide to find other paths for service rather than elected office after objections from a spouse or children.
An important consideration with your spouse or partner is the household financial burden which running for office and serving in office brings. Candidates are expected to contribute to their own campaigns before they begin asking others for money. Determining the range of contribution your household can afford in support of the campaign is an important conversation.
Even after a candidate wins, the professional and financial sacrifices continue. While most elected offices pay a "salary," often quite small, those stipends rarely make up for the lost work hours (and salary) or the expenses families incur for babysitters, dog walkers and household maintenance needed when the public servant is not at home because they are at yet another meeting or community forum. While some employers are happy to have employees serve in elected office, others are not and some elected women in the past have lost jobs due to the demands of their legislative career. Discussions with an employer are an essential part of the decision tree.
Once you and your partner give your candidacy the green light, the next step is to talk with children when you have them. For many candidates, it is their children who first encourage them to seek office. For others, children have objections which must be respected, particularly when it comes to what family photographs or "stories" will be shared on the campaign trail. Setting parameters for which family details will be shared on the campaign trail is important, particularly for teenage children. They may choose not to follow your campaign on social media but could still be "mortified" to learn from friends about something you have shared in a campaign appearance.
Other family members such as siblings and parents deserve the courtesy of a frank conversation, particularly if your campaign narrative will talk about your childhood or a narrative involving extended family.  Neighbors and close friends deserve to know about your plans. Even when a campaign utilizes rented office space, the home of a candidate is often a hub of activity which can be a nuisance to neighbors. Your close friends will want to be supportive of your plans and will want to hear of them from you before public announcements are made.
Once you have made the decision to run and are in the "quiet phase" of a campaign, do whatever you must to be sure all social media settings are where you want them to be for privacy of personal accounts. Take down any photos you would not want to see you opponents use on a mailer. Political opponents have a particular knack for finding the most unflattering photos ever taken of any candidate. Make your opponent work very hard to find such photos of you.
In the search of your public record, also check for past comments and public statements which could  be twisted and used against you. Get a close and trusted friend to help you review those parts of your public profile which you can control before you make any announcements. If you once wrote for the college newspaper or sent letters to the editor you now regret, keep copies of this public record and be prepared to explain why you have changed your mind and how your current positions on the issue differ.
Speaking of opponents. Are you prepared to lose? In every political contest, somebody loses. Before you put your name in the hat, be sure you can handle the disappointment of losing a hard fought campaign. Some candidates go into a tailspin after losing. Others know sometimes it takes more than one contest to defeat an incumbent or FLIP a district. While you will go all "In it to WIN it," be prepared for a loss in difficult districts. Consider writing yourself a letter to be opened in case you lose to remind yourself of all the great things friends told you in encouraging you to run for office. Those great things will still be true about you even if you lose.
As you begin to move closer to a public announcement of your campaign, begin to collect lists of those who might be helpful to the campaign and willing to donate to your efforts. Clean up your database and collect lists from neighborhood groups, schools, churches and organizations you have been a part of. Think about those in your circle of "friends, good friends and such good friends" who might be willing to support your campaign. Some will be willing to pledge financial support even before a campaign announcement is made.
But, before you begin to fundraise and actually collect checks, be sure you have checked all the regulatory boxes for establishment of a campaign committee and these vary by the level of office you are running for. Make sure you have a separate campaign account set up at the bank and be sure you have a trusted friend who will serve as treasurer of the campaign to take care of and properly report all contributions.
There are many on-line resources for operating your campaign and training sessions offered by WIN List and other groups. Check these out and remember to ask for help – especially from those who encouraged you to run in the first place.
Finally, if you decide running for elected office is not for you at this moment, there are plenty of other ways to serve which do not require a campaign and still offer opportunities to improve your community.
These paths to service include: appointed boards and Commissions such as zoning, airport or hospital authority, library board, industrial authority and even the county board of health.
There are also plenty of ways to be of service in the non-profit sector beyond the typical work in your child's school. There are community foundations and every kind of organization for almost every interest. Heaven knows many progressive groups have board member burnout and could use strong responsible board members to shoulder the managerial role and raise the money to keep the progressive highway of interlocking groups and causes headed in the right direction and running smoothly.
Running for local office is a great way to begin a public service career. Senator Valencia Seay first ran for school board and then the House before moving up to the Senate. And Rep. Teri Anulewicz served on the Smyrna city council for ten years before running unopposed for the Georgia House.
In the end, public service is well worth it and the job never ends according to Mayor Franklin: "I'm the sewer mayor. I'm proud of it. I mean, infrastructure is really important. You can't live without clean, accessible water… We all want our children and grandchildren and great grandchildren to live good lives. That means they have to have clean air, clean water, fair treatment, access to education, jobs, fair pay. We'll only get there if we keep working… The lesson I've learned in my life is that even when you have accomplishments, you have to keep up the struggle. Someone is still left out, and it's our responsibility to erase that gap for them."