By Olivia Ewing and Ke'Aira McDowell*
Georgia ranks 20th in the nation for the percentage of women serving in its state legislature, clearly demonstrating the proportional relationship between the margin of victory for recent abortion bans and the number of women in a legislative body and the percentage of those women who are progressive Democratic women.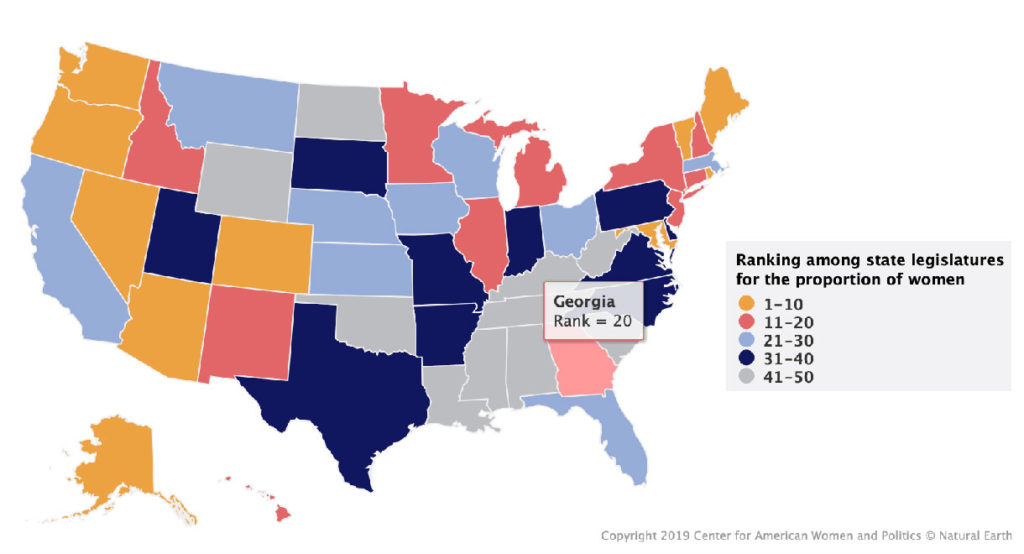 Of the six states which have passed abortion bans, Georgia had the closest vote. Georgia's six week abortion ban, HB 481, passed with a narrow margin of 92-78. (91 votes required in the 180 member house.) Earlier, the measure passed with 34-18 approval in the Senate. By comparison, Alabama's House Bill 314 was passed with an astonishing 74-3 vote margin where only 15.7% of the state's legislators are women and only two thirds of the women are Democrats.
Clearly, when more women hold legislative office, their voices influence debate in house and senate chambers in a dramatic fashion. Eloquent speeches by Georgia women Senators and representatives were viral in a matter of hours when the bill was first debated in late March.
In Georgia, women comprise 30.5 percent of the legislature and Democratic women outnumber their Republican colleagues 3.2 to one. Specific Georgia figures and all figures in the charts below for the percentage of women in state legislature are from the Rutgers University Center for American Women in Politics.
States Passing Abortion Bans
House
Senate
Ratio (Dem to GOP women)
% Women
Georgia
Banned at 6
weeks
92-78
34-18
3.2 to 1
30.5%
Ohio
Banned at 6
weeks
61-28
19-13
1.9 to 1
26.5%
Missouri
Banned at 8
weeks*
110-44
24-10
1.04 to 1
24.9%
Kentucky
Banned at 6
weeks
71-19
31-6
.9 to 1
22.5%
Louisiana
Banned at 6
weeks*
73-29
31-5
.91 to 1
16%
Alabama
Total ban*
74-3
25-7
2.14 to 1
15.7%
Mississippi
Banned at 6
weeks*
76-37
34-15
1 to 1
13.8%
* no exceptions for rape/incest
As a response to the recent attacks on reproductive freedom in the South and Midwest, some progressive states are now introducing bills which repeal existing restrictions on abortion. These states have a higher percentage of women legislators than in the states which have passed abortion bans.
Nevada, the only state where women hold the majority of legislative seats, has approved a new law which repeals restrictions on self-induced abortions and takes away the requirements for doctors to explain the "emotional implications" of an abortion before performing one. In addition, Nevada doctors are no longer required to verify a woman's age, marital status and consent in writing before performing a procedure.
A bill which grants full reproductive freedom to women by prohibiting any and all government restrictions on the right of an individual to terminate pregnancy has passed through Vermont's House (106-37) and Senate (24-6). The state has also proposed an amendment which would make "personal reproductive autonomy" a fundamental right, providing greater protection than the proposed bill alone. Vermont is the first state to propose a constitutional amendment guaranteeing a woman's right to choose.
In Illinois, the Reproductive Health Act has been approved with a 34-20 vote in the Senate after a 64-50 vote in the House. The bill rescinds restrictions on some late-term abortions, officially removes criminal penalties for doctors who perform abortions and requires insurance companies to pay for abortion procedures.
States Easing Abortion Access
| | | |
| --- | --- | --- |
| | Ratio (Dem to GOP women) | % Women |
| Nevada | 4.5 to 1 | 52.4% |
| Vermont | 3.64 to 1 (3 I, 4 PRG) | 40% |
| Illinois | 5.4 to 1 | 36.2% |
Even as the ACLU and Planned Parenthood Southeast prepare a lawsuit to challenge HB 481 in the federal courts, Georgia's WIN List is focused on a longer term strategy for protecting reproductive freedom for many years to come. First, we must DEFEAT the Republicans, primarily men, who voted in favor of HB 481. We replace those male Senators and Representatives in 2020 by ELECTing Democratic pro-choice Women In Numbers. Then, with more women in the General Assembly in 2021, the first order of business will be to REPEAL HB 481.
Moving forward, with a Georgia General Assembly which has an even higher percentage of women members, bills to restrict reproductive freedom in the future would remain in committee and never make it to the floor for a vote. Progressive advocates could work towards passage of other measures which would address other issues of grave importance to women and their families such as equal pay, healthcare and gun safety.
Your support today builds the campaign fund for the women we hope to endorse in record setting numbers for the 2020 election cycle. Will you Double Down with your generous gift today?