Image Credit: Kelly Jordan
For 23 years, electing more pro-choice Democratic women to the Georgia General Assembly has been the core mission of Georgia WIN List. This mission is even more important since the Supreme Court of the United States overturned Roe v Wade and sent abortion decisions back to state courts and legislatures.
Georgia currently has an approximately six-week abortion ban in place and a state Supreme Court hearing is set for late March. Many are surprised to learn Georgia has a relatively liberal past for abortion laws compared to other Southern states and in fact, a Georgia case was argued on the same day as Roe v Wade more than five decades ago.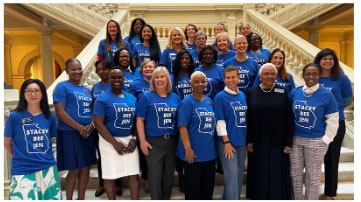 Our board chair and endorsed women at a Capitol press conference.
Georgia WIN List was founded in 1999 at the same time factions of the evangelical Christian community and the right wing of the Republican party joined forces to build a power base throughout Georgia, especially in rural areas where candidates ran for local offices. The founders of Georgia WIN List knew electing pro-choice legislators was essential because the Georgia GOP was at the same time doubling down to propose increasingly draconian state laws governing reproductive healthcare to "chip away" the protections granted in Roe v. Wade.
Following the reversal of Roe v Wade in June 2022, the a "worst nightmare" scenario is now law for Georgia women of child-bearing age who are now subject to a six-week abortion ban.
At its core, Roe v Wade was a Supreme Court of the United States opinion based on common law principles of privacy. Closer to home, case law established in 1905 gives Georgia citizens some of the strongest privacy protections in the nation based a Georgia Supreme Court ruling in Pavesich v New England Life Insurance Company. That ruling has subsequently been quoted in more than 200 cases nationwide and four SCOTUS cases. Many attorneys believe since SCOTUS remanded reproductive policy decisions to the states, the Georgia challenge is a strong one.
June's SCOTUS ruling in Dobbs v Jackson Women's Health Organization overturned almost 50 years of legal precedent and removed a constitutional right earlier granted by Roe v Wade. The American College of Obstetrics and Gynecology said in response to the ruling: "Today's decision is a direct blow to bodily autonomy, reproductive health, patient safety, and health equity in the United States."
Nationwide and in Georgia, surveys and polls indicate the majority of Americans favor preserving Roe v Wade and abortion being legal in all or most circumstances. While some Americans support restrictions on late-term abortions, only one in ten Americans want abortion to be illegal in all cases. However, abortion bans predominate in rural heavily Republican states, especially in the South, where gerrymandered maps protect GOP incumbent legislators.
Georgia WIN List believes continuing to elect more pro-choice Democratic women is the most effective long-term solution to protect reproductive freedom and allow women to control their own bodies and make medical decisions without governmental regulation or interference. Moving forward, Democrats must elect a record setting number of pro-choice candidates — women and men willing to support choice — in numbers so large Republicans can't ignore the fact voters who support reproductive freedom outnumber those who favor restrictions or bans.
For the 2022 election cycle, candidates had already qualified in March before the Dobbs decision was published. There were not pro-choice candidates to oppose every pro-life Georgia Republican in 2022 and GOP-gerrymandered maps made Democratic wins impossible in some districts. However, efforts to recruit pro-choice Democratic women (or men) for every Republican-held district are already underway. Votes for pro-choice candidates clearly demonstrate Georgia women DO NOT want politicians dictating their medical decisions. A vote for pro-choice candidates in future election cycles strongly sends the message: My Body – My Choice!
HB 481 Fullfilled Governor Brian Kemp's Campaign Promises
During his 2018 gubernatorial campaign, Brian Kemp made a promise to pass the "nation's strictest abortion law." HB 481 fulfilled the promise by essentially outlawing abortion in Georgia after six weeks, a time when many women do not even realize they are pregnant. During his 2022 re-election bid, a cornerstone of the Kemp campaign was the fact he had delivered upon his promise!
While HB 481 allowed exceptions for rape and incest, police reports were required to meet the exception requirement. The bill also contains a "personhood provision" making fertilized eggs subject to state protection and opening the door for potential legal fights over both the beginning of child support and the largely unregulated medical specialty of in-vitro fertilization.
Republicans called House Bill 481 "the heartbeat bill" despite the fact a fetal heart is NOT developed at six weeks and the rhythmic sound detected and amplified by an ultrasound machine is merely electrical cellular activity in an embryo the size of a pomegranate seed at six weeks. The official title of the bill was also a misnomer — The LIFE Act – an acronym standing for Living Infants Fairness Equality. Certainly, no embryo could survive outside the uterus at six weeks, 12 weeks or even 15 weeks!
While they lost their bids for statewide office in 2022, Democratic Gubernatorial nominee Stacey Abrams and Attorney General nominee Senator Jen Jordan made the protection of reproductive freedom a cornerstone of their respective campaigns.

HB 481 Passes House by the Slimmest Possible Margin
Advocacy efforts for and against HB 481 drew activists to the Capitol during 2019 for weeks of sign waving, rallies and press conferences. WIN List endorsed women legislators made eloquent and heart-felt speeches to oppose the bill, with the most gut-wrenching remarks delivered by Senator Jen Jordan, currently the Democratic nominee for Attorney General, who shared the loss she felt after multiple miscarriages: "No matter my faith, my beliefs, my losses, I have never, ever strayed from the basic principle that each woman – each woman – must be able to make her own decisions in consultation with her God and her family. It is not for the government or the men of this chamber to insert itself into the most personal private and wrenching decisions that women make every single day." Senator Jordan's speech was shared virally on an international basis.
HB 481 narrowly passed with a 92 to 78 margin – only one vote more than required for a constitutional majority in the 180-member House. The Georgia vote was the closest in any of the six states which approved more restrictive abortion laws in 2019. For example, the six-week ban in Kentucky passed by a margin or 71 to 19 votes, the Louisiana ban passed by a margin of 73 to 29 votes and Alabama's total abortion ban passed by a margin of 74 to 3 votes.
In 2020, Georgia WIN List endorsed candidates FLIPped three House seats. The impact of the 2020 FLIPped seats was clearly demonstrated in 2022 during fierce debates around how the drug protocol commonly used for more than half of early-stage abortions up to 10 weeks are prescribed. Republican sponsored SB 456 added new restrictions for prescriptions currently written following tele-medicine appointments: an ultrasound and in-person doctor visit, a requirement for the drugs now sent by mail to be picked up at a pharmacy, and a ban on writing these prescriptions on college campuses.
The 2023-24 Georgia General Assembly has a record setting number of women legislators and the largest freshman class ever with newly elected members on both sides of the aisle. It is unclear whether a six-week abortion ban similar to HB 481 would pass in this new political atmosphere.
Georgia's Progressive Reproductive Freedom History
Georgia has a long history for progressive policies which allowed women access to a full range of reproductive medical services. While Roe v Wade has been the defining Supreme Court case for abortion law for almost 50 years, few remember a companion case from Georgia, Doe v Bolton was argued on the same day.
Decades ago, Georgia women had greater access to reproductive services than women in many states, including the northeast. In 1968, abortion laws in Georgia and North Carolina were more liberal than those in New York or Massachusetts and it was easier to get an abortion in parts of the South than anywhere in New England, according to a 2017 article by history professor Daniel K. Williams.
As early as 1962, Emory University School of Medicine obstetricians opened a birth control clinic at Grady Memorial Hospital to offer birth control pills and intrauterine devices to women too poor to pay a private doctor. Another Georgia milestone came in 1964 when Esther Kahn Taylor, a progressive Jewish philanthropist, established the first Southeastern Planned Parenthood affiliate in Atlanta.
At the time, Fulton County had one of the highest rates of infant mortality in the nation in part because so many women who needed family planning services could not afford them. Within a decade, the high-powered board Mrs. Taylor established operated eight clinics in Atlanta and one in Roswell serving up to 7,000 patients each year.
In 1968, Georgia law allowed for pregnancy termination in cases of rape and incest, threats to a woman's health, or suspected fetal deformity. However, such procedures were available only for residents of Georgia and required the written approval of three physicians and a special committee – huge obstacles for poor women. Those laws were passed with bi-partisan support because the issue was viewed as a "doctor's cause" rather than a women's rights issue.
The Doe v Bolton case – Arthur K. Bolton was then Georgia's Attorney General – was filed after an unemployed young mother with mental health issues was denied an abortion at Grady Memorial Hospital in 1969. The case was filed by the late Margie Pitts Hames. At the time, legal appeals for such cases took so long the cases needed plaintiffs in addition to the woman who had been denied the abortion procedure. Otherwise, once a pregnancy came to full term, case appeals were moot when only that woman was a plaintiff.
Mary Long, a nurse at Grady Hospital who would years later become a founding board member for Georgia WIN List and in 2005 became the group's second board Chair, agreed to become an additional plaintiff in the Doe case. As a nurse, Ms. Long had observed first-hand the emotional and physical trauma suffered by women who had experienced botched abortions.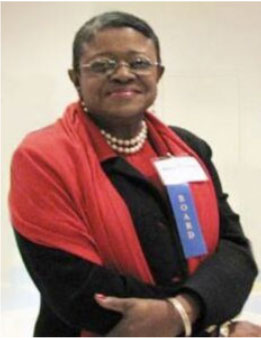 "I've seen the results of women who had bad abortion procedures," Mary recalled of her time as an emergency room nurse in an interview. "They would come in lifeless … almost near death."  These women did not have the access to safe and legal abortion young women would come to take for granted in later decades. The only option for many in those days was a back-alley provider or an attempt at self-induced abortions which often resulted in hysterectomies or major infections.
The SCOTUS ruling in Roe v Wade invalidated most remaining restrictions in Georgia law including the medical approval process and the residency requirements. Roe v Wade made abortion legal nationwide for approximately the first six months of pregnancy. As the "right to life" movement gained momentum in Georgia and across the nation beginning in the 1980's, Republicans worked to "chip away" at this new national precedent with increasingly strict regulations at the state level.
Georgia women found an unlikely ally for almost three decades in a powerful cigar chomping country lawyer from Bremen.
Legendary Georgia House Speaker Tom Murphy served from 1974 to 2002, wielding more power under Georgia's Gold Dome than many of the governors he served alongside. His 2007 obituary noted, while "Mr. Speaker" had opposed the Equal Rights Amendment, he "kept a lid on attempts to prohibit abortion" during his tenure as the longest serving House Speaker in the nation at the time. No Republican-led attempt to reduce access to abortion for Georgia women succeeded during Speaker Murphy's tenure despite several attempts.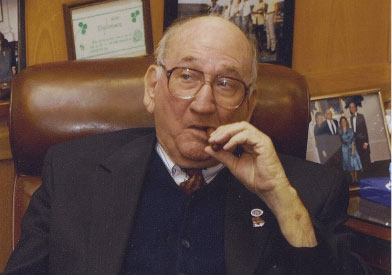 Georgia became the seventh state in the nation to pass a 20-week abortion ban in 2012. After many debates and votes during the session, the bill passed during a 14-hour final legislative day despite fierce objections from women legislators. The women staged a walk-out and draped themselves in yellow police tape while chanting, "We will remember in November." The 20-week abortion ban tightened medical exemptions for terminated pregnancies and provided exceptions only for the life of the mother and fetal abnormalities "incompatible with sustaining life after birth." Doctors successfully lobbied for protection from civil suits resulting from the legislation.
"The GOP war on women is alive and well in Georgia," Senator Nan Orrock said in 2012 as the bill passed the House with a 106-59 vote. Democratic women legislators turned their backs on the bill sponsor (a former Democrat who had switched to the Republican party) in protest. He was defeated in the next election by a pro-choice Republican woman.
Then, as now, women found power at the ballot box!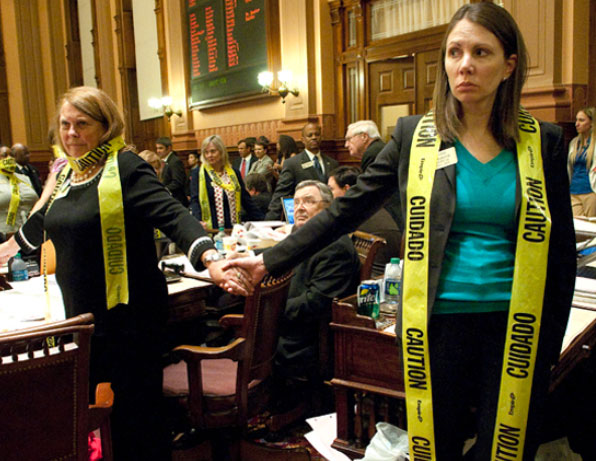 Georgia Women will continue to vote for candidates who have vowed to protect Reproductive Freedom.