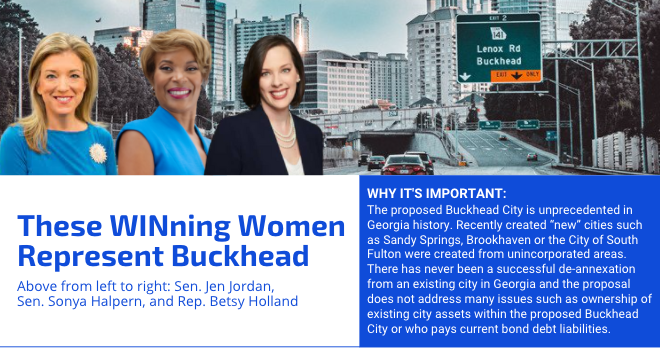 There are many concerns about how the proposed Buckhead City might work. Costly litigation across a wide range of issues would surely follow the passage of the proposed legislation even before voters had the opportunity to make their opinions known.
Here are some of the facts around these issues:
Public School Education: The charter for Atlanta Public Schools includes educating only those students who live within the City of Atlanta. Further, the Georgia Constitution specifically prohibits the creation of any new local school systems beyond the city school systems which were in existence in the mid1960s. (GA Constitution, Article 8, Section 5, Paragraph 1.) Therefore, the creation of Buckhead City would leave thousands of Buckhead public school students in limbo possibly for years as lawsuits settled disputes. The Atlanta Public School System maintains students living in Buckhead City would no longer be eligible for their schools. Fulton County does not have the facilities or resources to quickly absorb so many new students. Existing public schools in Buckhead carry a large debt due to new construction and renovation. Proponents for Buckhead City have not addressed how these issues will be resolved.
Debt Liability: The residents and businesses of a new Buckhead City would still be responsible for an enormous portion of the debt presently owed by the current city of Atlanta, including outstanding bonds and vested but not fully funded pension debt. The total amount of debt Buckhead City would be responsible for is unknown; however, at a minimum, approximately $588 million in bond debt is secured directly and primarily by anticipated property tax revenue and 40 to 45 percent of Atlanta property tax revenue is collected from the geographic area in the proposed Buckhead City. Further, Buckhead City would be responsible for its portion of the city's unfunded pension obligations, estimated to be $1.1 billion.
Bond Ratings: The creation of Buckhead City would dramatically and adversely impact bond ratings for the existing city of Atlanta, the Atlanta Airport and all other cities and counties in Georgia. Further, the state would be at risk for losing its highly coveted and fiercely protected AAA bond rating.
City Facilities: Atlanta fire stations, police precincts, senior citizen centers and many acres of beautiful parks fall within the boundaries of a proposed Buckhead City. What a new Buckhead City might be required to pay for the purchase of these Atlanta assets is up for discussion and potential lawsuits. Further, questions remain about whether Atlanta could possibly sell existing parks in Buckhead to developers offering the highest bid?
Water and Sewer: A new Buckhead City would still be entirely dependent upon water and sewer services offered by the Atlanta Department of Watershed Management, which installed and has maintained an interconnected system of underground pipes. In turn, ADWM would be entitled to charge rates as much as 20 percent or more higher than those Buckhead residents currently pay. As a cautionary example, Sandy Springs residents have been in litigation with Atlanta Watershed for years over the same issue.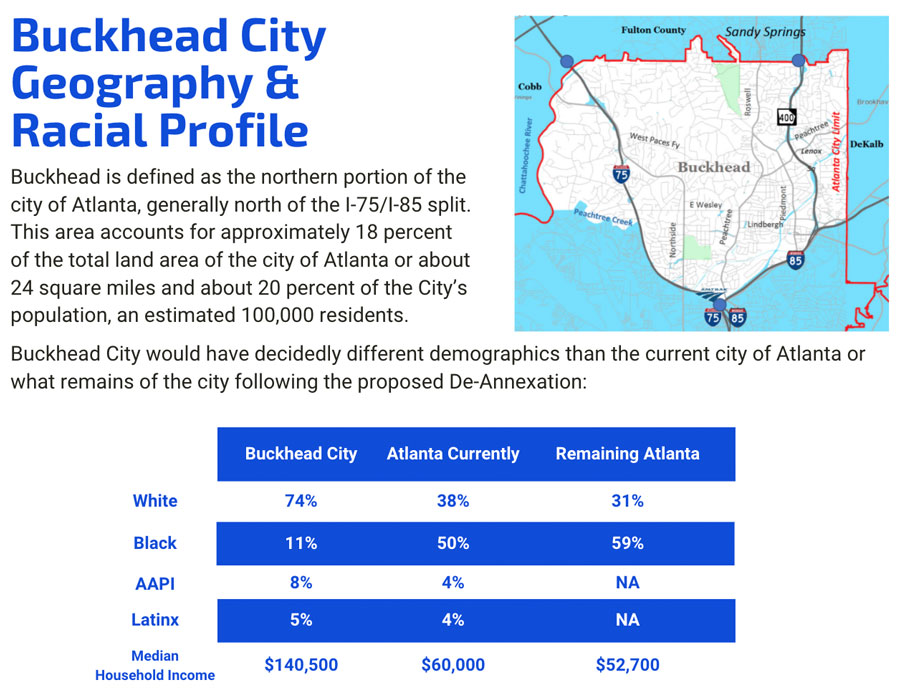 Two Feasibility Studies Conducted for Buckhead City
Two research papers conducted by opposing groups contain a great deal of information, some of it in chart form, about the issues surrounding the creation of Buckhead City by De-annexation from Atlanta. The proposed Buckhead City stretches over 24 square miles and includes 90,000 residents – one fifth of the current Atlanta population. The area also generates 38 percent of Atlanta's tax revenue.
Opponents
Those opposed to the creation of Buckhead City commissioned a study by KB Advisory Group, conducted in conjunction with key staff members at George Mason University's Center for Regional Analysis. The 18-page study includes many charts and graphs detailing the financial impact of the proposed De-annexation. The research provides a view of finances for both the proposed Buckhead City and the remainder of Atlanta following De-annexation.
Proponents
A 47-page feasibility study funded by the Buckhead City Committee was conducted by The Valdosta State University Center for South Georgia Regional Impact as required by legislative committees who review such proposals. The report is from an unusual source after the Georgia House Governmental Affairs Committee voted to allow "feasibility studies" from University System groups other than the Carl Vinson Institute at the University of Georgia which has for decades been exclusively utilized for such research.
Not surprisingly, the report "concluded that a proposed Buckhead City would be financially feasible" by making many comparisons between a projected budget for the new Buckhead City and budgets for Sandy Springs and Roswell, which were each formed from unincorporated areas of Fulton County. However, the report fails to address the impact De-annexation would have on the existing city of Atlanta or the tangled web of issues surrounding public education and existing debt obligations.
Buckhead City in the News!
There have been many news articles from respected sources over the course of the last few months. Here are the links to several of the most informative:
Atlanta's Wealthiest and Whitest District Wants to Secede
"Buckhead's secession would strike at the power of Atlanta's Black political class. Black residents have been involved in a 50-year project to accrue power in the city, beginning with the election of the first Black mayor, Maynard Jackson, in 1973. Today, a mostly Black cast of elected officials is in charge of the largest city in the South, which has one of the highest concentrations of Fortune 500 company headquarters in the nation.
"Atlanta as a whole is 51 percent Black, according to 2019 census data. An analysis by the Atlanta Journal-Constitution found that the new Buckhead City would be roughly three-quarters White.
Jason Esteves: Buckhead 'divorce' will leave APS students behind
"More than 5,500 Atlanta Public Schools students live within the boundaries of the proposed city and attend North Atlanta High School cluster schools (including charter schools). That's nearly 60% of all school-aged children in Buckhead. There are also more than 2,400 students who attend North Atlanta cluster schools, but would be left out of the boundaries of the proposed city.
"Despite the fact that nearly 8,000 students would be directly impacted by a "Buckhead City," the interests of and the impact on these students have been largely ignored or dismissed in the public dialogue."  – Jason Esteves, Atlanta School Board Chair
Lawmakers repping Buckhead in Georgia Legislature speak out against Buckhead City
"APS owns those buildings and property," Jordan said Monday. "Those schools don't become the property of the city of Buckhead. What happens to those properties? Who becomes eligible to lease or sell them? APS is under no obligation to service children who don't live in the city of Atlanta. If APS decides not to teach those kids, they fall into the jurisdiction of the Fulton County school system, and that system doesn't have the plans, capacities, finances or staff to absorb them."
Why Buckhead's State Senators Oppose Citihood: Patch Q&A
"Halpern: I strongly oppose Buckhead cityhood. One, creating a new city would have no effect on the things Buckhead residents are most concerned about, especially crime. Two, it would do incalculable damage to both the Buckhead area and the rest of Atlanta. It would damage our credit, create chaos for K-12 students, and literally divide us at a time when we need to come together to solve our shared challenges."
Opinion: Splitting off from Atlanta's not way to make Buckhead safer – From Dave Wilkinson, CEO of the Atlanta Police Foundation.
"Buckhead needs additional police officers, as do other communities across Atlanta. Citizens have the power to hold our elected officials accountable. Let's let those running for mayor know that the current rise in violent crime will not be tolerated.
"Atlanta's success is founded on our willingness to talk together, work together and come together to address common problems. Doing otherwise is a surrender, not a solution."
OPINION: The inconvenient truth, and unanswered questions, of 'Buckhead City' – By Patricia Murphy column
"But kick the tires and you'll quickly see that cleaving Buckhead from Atlanta would be wildly complicated. Unlike creating a new city in the unincorporated area of a county (think Sandy Springs), carving Buckhead off of Atlanta could disrupt schools, cost hundreds of millions, and have no guarantee of reducing the crime that families all over Atlanta deserve to live without…. If Buckhead becomes its own city, the eight Atlanta Public Schools in Buckhead will still be owned and operated by the city of Atlanta."
Buckhead cityhood an ill-advised idea –  Former Mayor Sam Massell
"Taking Buckhead away will bankrupt Atlanta and be reported nationally, crippling all development. It would likely complicate public safety, with no improvement in crime prevention. It would destroy the community brand, which would require decades to rebuild. And it would increase taxes and diminish services."
Atlanta Journal and Constitution – AJC – April 25, 2020:  
What would 'Buckhead City' look like? We crunched the numbers
"The scale of this de-annexation, it would be the biggest thing to happen in the state of Georgia with regards to cityhood," said Michael Leo Owens, an Emory University professor and an expert on urban politics. "One has to consider what the ripple effects would be."
The Saporta Report – 10-25-21:
Creating a Buckhead City would hurt Atlanta on so many levels
"It would create a majority white Buckhead City and majority Black Atlanta – going against everything our city has represented historically as a place where races can come together to work on solutions… It also would divide our city into two cities – one of the haves and the other of the have-nots."
Bill White –  the man behind the push for Buckhead City
The New York Times – 11-26-18:
How a Liberal Couple Became Two of N.Y.'s Biggest Trump Supporters
"Bill White and Bryan Eure supported Barack Obama and Hillary Clinton. Now they are fund-raising for President Trump and have his sons' numbers on speed dial… Since 2016, the couple has made a gradual shift from life in the liberal enclaves of the Hamptons and Manhattan, where they had long flipped homes as a hobby, to Atlanta, where they recently purchased property…They now split their time between New York and Georgia. In the South, they are closer to Mr. Eure's parents and found that they can wear red pro-Trump hats in peace."
New York Daily News – 9-27-10:
Bill White, disgraced ex-head of Intrepid, agrees to pay $1 million settlement in pay-to-play deal 
"In one case, according to Cuomo, White helped win $500 million in pension fund investments in Guggenheim Partners Select State Fund.
White "secretly" received more than $570,000 in fees from the deal, Cuomo said. He also not only gave $10,000 to Hevesi's 2006 reelection campaign, but bundled $50,000 in donations from two Guggenheim principals.
"The state pension fund, which should be safeguarded for taxpayers, was instead served up to fixers, finders, and fund-raisers like Bill White, who used his access to fill his pockets," Cuomo said.