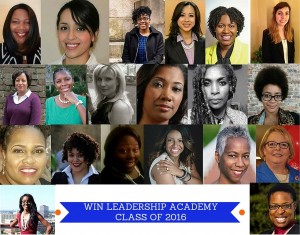 Georgia's WIN List is delighted to introduce the outstanding WIN Leadership Academy Class for 2016.
---
The WIN Leadership Academy (members photographed above with board members and instructors during a recent session) is an annual, year-long program to develop future women leaders for Georgia. Monthly meetings focus on leadership training, policy briefings and detailed instruction about the inner workings of running a political campaign for yourself or others: messaging, fundraising, volunteer management, press relations and voter turnout,
With 20 members, the 2016 class is the largest and most diverse ever. The current class takes inspiration from Brenda Lopez, 2015 WLA graduate who become the first WLA class member to win a seat in the General Assembly when she won her race for House District 99 in Gwinnett County. The WLA goal is to have many other graduates ready to run future election cycles. The WLA program features monthly classes taught by state and national experts, with each month's topic having an accompanying reading or video assignments for preparation prior to the session. The group meets monthly in Atlanta and in geographic clusters for other parts of the state where class members participate electronically via the latest technology tools.
While past classes have primarily attracted a younger crowd, WLA is for all ages and recruitment for the 2016 class specifically targeted women from each stage of life in recognition of the idea that women make decisions to run for office or participate in the political process at different times in their lives. The goal for WLA is to train women not just to run for state and local offices, but also for leadership roles in campaigns and appointed positions which affect public policy such as state or local boards and commissions or judgeships.
WIN List also provides regular one day "boot camp" style training sessions specifically devoted to campaigns for candidates and campaign managers. Further, as nationally recognized programs such as Vote Run Lead and Camp Wellstone offer instruction in Georgia, WIN List recruits participants and provides scholarships.
More than 1,000 women participated in WIN List training opportunities during the last 16 years!