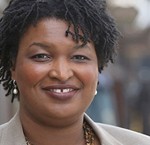 Stacey Y. Abrams is the House Minority Leader for the Georgia General Assembly and State Representative for the 89th House District. She is the first woman to lead either party in the Georgia General Assembly and is the first African-American to lead in the House of Representatives. Stacey serves on the Appropriations, Ethics, Judiciary Non-Civil, Rules, and Ways & Means committees.
Stacey attended Spelman College, graduating magna cum laude with a B.A. in Interdisciplinary Studies (Political Science, Economics and Sociology) and was named a Harry S. Truman Scholar. She received a Masters from the Lyndon B. Johnson School of Public Affairs at the University of Texas at Austin and a J.D. from Yale Law School.
First elected to the Georgia House of Representatives in 2006, Stacey quickly became known for her expertise and ability to explain complicated tax and legal questions, and she earned a reputation for working across party lines to pass legislation. In 2010, Stacey became House Minority Leader and has led the caucus to promote and pass legislation to increase educational opportunity, promote economic security, and improve the quality of life for all Georgians.
Georgia's WIN List is proud to have supported Rep. Stacey Abrams throughout her bright political career.
Follow Stacey on Facebook
Follow Stacey on Twitter
Follow Stacey on Instagram
Learn more at www.staceyabrams.com
Contribute to Stacey's campaign