Chef Virginia Willis is a long time advocate and activist for women's reproductive freedom and WIN list supporter. A native of Augusta, Georgia home of the Masters, she is sharing her recipe for the famous Masters' Egg Salad Sandwiches and you can read more about her experiences at the storied tournament on her website, VirginiaWillis.com. Make sure to follow Virginia on Instagram at @virginiawillis for more tips, techniques, and recipes. 
The Master's Egg Salad Sandwich
Serves 4 (Makes about 1 ½ cups)
Very fresh eggs are difficult to peel. For deviled eggs, the trick is to think ahead and buy and refrigerate eggs for about seven days in advance of cooking. This allows the eggs to take in air, which helps separate the membranes from the shells. With egg salad, it's less important because you're going to mash them up, but something to remember if you don't understand why your eggs are easy to peel sometimes and sometimes not.
6 large eggs
3 tablespoons mayonnaise, or to taste
1/4 teaspoon sweet paprika
Coarse salt and freshly ground white pepper
8 slices white sandwich bread, cut ½ inch thick
To hard cook the eggs, place the eggs in a saucepan and add water to cover them by 1 inch. Bring to a boil over high heat (you will see bubbles around the sides of the pot). Remove from the heat, cover, and let stand for 10 minutes for slightly soft eggs for egg salad, or 12 minutes for firmer eggs for deviled eggs and such. Drain the eggs and rinse them under cold running water. Set aside to cool completely.
To peel the eggs, tap each egg gently on the counter or sink all over to crackle it. Roll the egg between your hands to loosen the shell. Peel, starting at the large end, while holding the egg under running cold water; this facilitates peeling and also removes any stray shell fragments.
Halve the eggs and place in a bowl. Using a pastry blender or a fork, mash the eggs until slightly coarse. Add the mayonnaise and sweet paprika to the mashed eggs; season with salt and white pepper. Stir to combine.
Place 4 slices of the bread on a clean work surface. Divide the egg salad equally among the bread.Top with the remaining 4 slices of bread. Using a serrated knife, halve on the diagonal. Serve immediately.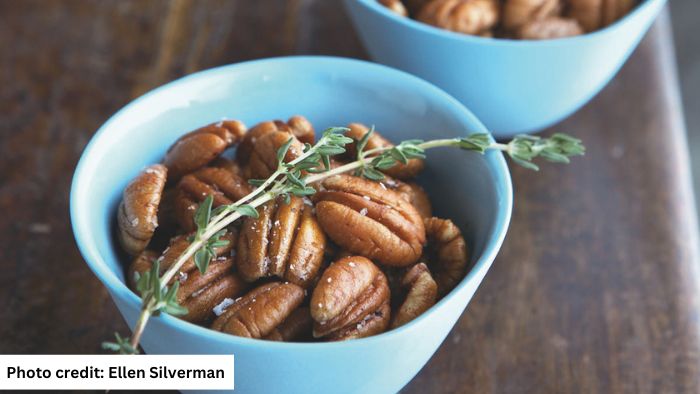 Thyme Toasted Pecans
Makes 4 cups
Southerners always seem to have candied and spiced pecans around to nibble on during the holidays. My grandmother always made sweet pecans crusted with egg whites and sugar, using the nuts she and my grandfather had collected in the fall. So this version, with extra-virgin olive oil and herbs, is a real departure for my family. Recipes such as this, with a short ingredients list, are completely determined by the quality of the ingredients. The shorter the list, the better the ingredients must be. Pecans are the star, but the choice of olive oil and salt is crucial to the success of the dish. Use the finest possible. This recipe is splendidly simple, just perfect with apéritifs and for cocktail parties.
4 cups pecan halves
2 teaspoons coarse salt or sea salt
1 teaspoon freshly ground black pepper
1 tablespoon fresh thyme leaves
3 tablespoons extra-virgin olive oil
In a large, dry skillet, toast the pecans over medium heat until golden brown and fragrant, about 5 minutes.
Meanwhile, in a large bowl combine the salt, pepper, thyme leaves, and olive oil.
Add the warm toasted pecans to the thyme-oil mixture. Stir well to combine and evenly coat the pecans. The fragrance is amazing! Taste and adjust for seasoning with salt and pepper.
Making Ahead: Once the seasoned nuts have cooled, store them in an airtight container in the refrigerator for up to 2 weeks. Bring them to room temperature before serving.

Pimento Cheese
Recipe by Melita Easters
1 pound coarsely grated sharp cheddar cheese
1 pound finely grated mild cheddar

If you buy pre-grated bags, buy one bag of the fine grate and another more coarse.

1 7-oz jar finely chopped pimentos

Reserve 3 TBSP liquid, rinse and drain the remainder of pimentos

1 cup Duke's mayonnaise
5 cloves pureed garlic – or – 3 TBSP garlic blend in a supermarket tube
1 ½ TBSP Harissa
2 TSP Worcestershire sauce
1 TSP dry mustard – or – 1 TBSP rough mustard such as Grey Poupon
1 TSP smoked Spanish paprika
As needed:
More mayonnaise and room temperature butter for spreading if making sandwiches.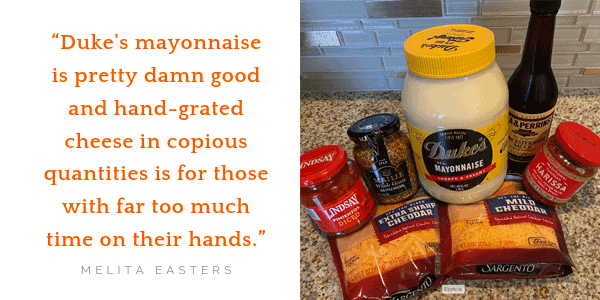 In a large bowl, combine the mayonnaise, the 3 TBSP of liquid reserved from pimentos jar, and all other ingredients EXCEPT for cheese and pimentos. Whisk well.
Add cheese and well-drained pimentos and mix using a large spatula. If necessary, add more mayonnaise for proper consistency.
Best when stored for at least 12 hours in an airtight container in the refrigerator to allow flavors to mingle. Bring pimento cheese to room temperature prior to making sandwiches or serving as a spread/dip.
When making sandwiches, some spread a thin layer of unsalted butter and then a thin layer of mayonnaise on each slice of bread before spreading the pimento cheese. I do not follow this practice. However, if making tea sandwiches several hours or even a day ahead, the thin layer of butter prevents soggy sandwiches. When preparing sandwiches ahead, separate layers with wax paper and store in zip-lock bags or air-tight containers in the refrigerator.
Variations
As for most recipes, variations of the "WINning Pimento Cheese" recipe abound:
CHILDREN'S VERSION:
Eliminate the pepper, paprika and Worcestershire sauce
CHEESE SUBSTITUTIONS:
While Velveeta and cream cheese have a place in the Southern food lexicon, they do not belong in pimento cheese. There are those who disagree and they have a right to their opinion of course.
When using pre-grated cheese from the store, you should get a mix of fine and coarse grated cheese. For variety, the four-cheese Mexican blend of cheese works wonderfully well.
To accompany an Italian meal, use one pound of hard Italian cheeses with one pound of mozzarella. You can also use one pound of a mixed pre-grated Italian blend cheese.
For a St. Patrick's Day treat, grate a blend of Irish cheeses, with white cheddar being especially delicious.
MORE OR LESS SMOKY/SPICEY:
For a smokier flavor, substitute a grated smoked hard cheese such as those sold at Trader Joe's. Also, reduce or eliminate, depending upon taste, the paprika and the Worcestershire sauce. To make it more "hot," add more pepper blend or Tabasco, but remember a little goes a long way when it comes to Tabasco.
How to Serve
SANDWICHES:
You can make "WINning Pimento Cheese" sandwiches with white bread or any other bread of choice. Experiment with local artisan bakery bread, with Jalapeno cheese or sundried tomato varieties being particularly good. For a tea party or special occasion presentation, use white bread and remove crusts before cutting into rectangles or triangles – two for hearty occasions such as a child's party and four for high tea.
Serve grilled pimento cheese sandwiches with tomato soup or a salad. If using a panini press, spray the bread with Pam to rack up fewer calories than dipping bread in melted butter. Slices of ham or bacon, thinly sliced Vidalia onions or slices of heirloom tomatoes are favorite additions to pimento cheese sandwiches.
For a real laidback Southern touch, make a "WINning Pimento Cheese" sandwich with fried spam or bologna in a cast iron skillet.
AS A SPREAD OR DIP:
Pimento cheese pairs well with crackers, thinly sliced bread rounds, or toasted bread rounds like those sold at Fresh Market. Thinly sliced pretzel bread is a special treat.
Toast pimento cheese on bread rounds until bubbly and serve hot as an appetizer or with soup.
Shape the pimento cheese into a ball and roll it in pecans for a spin on the classic "cheese ball." You can also shape it into a ring, with the center hole used for either tomato, tomato pepper relish, or bacon jam. A version of the recipe has been frequently published as "Rosalyn Carter's Plains Cheese Ring."